Meeting of Waiheke Choral Society
Held on 17 July 2018 at 9:20 - Whittaker's Musical Museum
Present:
Saskia Herren, Andy Spence, Maya Spence, Susan Triggs, Nicolas Herren, Gavin Smart, Richard Melville
Apologies: Mark James,
General Business:
Puccini Concert
Date: October 20/21 subject to venue
Venue: Morra Hall, if Available
Time: 2:00 pm
Treasures Report:
Mark submitted treasurers report
| | | | |
| --- | --- | --- | --- |
| | Operating profit | | $1,172.48 |
| Balances: | Cheque account | | $15,235.03 |
| | Reserve fund | | $5,978.28 |
| | | | |
| Show | Mozart and More | | |
| | Income | | $2,240.20 |
| | Concert expenses | | $585.70 |
| | Nett | | $1,654.50 |
Concert Business:
Once the date is in place, Richard will see about soloists – Bass and Tenor.
Richard
To consider some extra content for the concert

May call for extra rehearsals closer to the concert date.
Susan
Ariane Duclos:
Has asked if we can write a letter of recommendation to support her application to extend her visitor's visa. The purpose of the extension is to look for work.
Saskia will print and sign the letter and give to Arianne to include with her application.
Business:
Musical director
Richard reiterated that he will do concerts with us on an ad hoc basis and is interested in the choir singing Lux Eterna on 11th November at the RSA
The choir needs to put forward ideas for the next few concerts and then we can show this to Richard to see if he is available to direct and conduct for those concerts.
If he is not available we will then have time to look for someone else who may be interested.
Whitakers have reported that at the last practise we did not tidy up as per the instructions. Nicolas will re-circulate the list of instructions and reply to Rosemary and Jane proffering our apologies.
Next meeting: In 3 or 4 weeks, to be confirmed at Whittaker's Music Museum (after choir)
Meeting closed at 22:00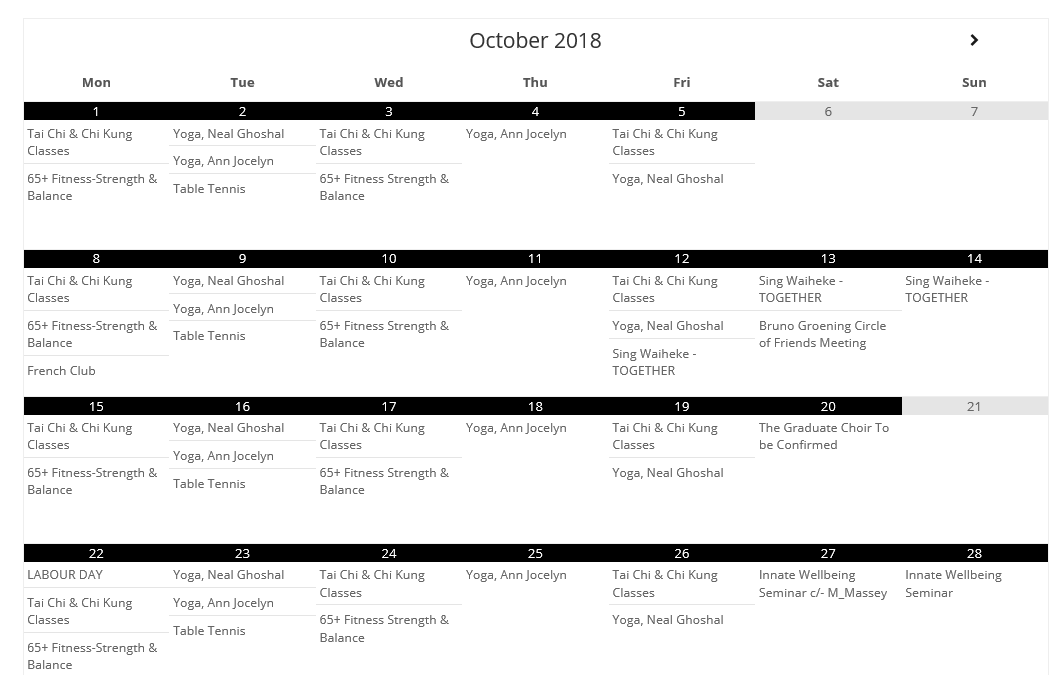 These Items are from the last committee meeting 08 May 2018
They were not discussed at this meeting but I have left here a reminder
Rest of the Year
Matariki
George Kahi has asked us to join the massed choirs to sing at Matariki on 27th July – E Pari Ra which will last about 4 minutes.
Christmas Concert
Committee to ask Rosemary Adler if she would help us with the Christmas concert, to take much the same format as last year.
Year 2019
There was some discussion around at conductor for 2019. Saskia to approach the university to see if there would be someone who would be interested in a conducting internship. We will also discuss with Richard if he is interested in continuing and see if Ariane will be coming back to New Zealand. If anyone else has any connections or ideas please put them forward.
Plays
The age of the choir precludes some of the musicals and other musicals are now very dated. Everyone to consider musicals – Hair, Jesus Christ Superstar.
Andy will consider directing.
Flash Mob
Before Christmas how about a flash mob in the supermarket or at the ferry building.