Waiheke Island Choral Society

P O Box 333, Oneroa, Waiheke Island 1840, New Zealand
War and Peace (November 2014)
---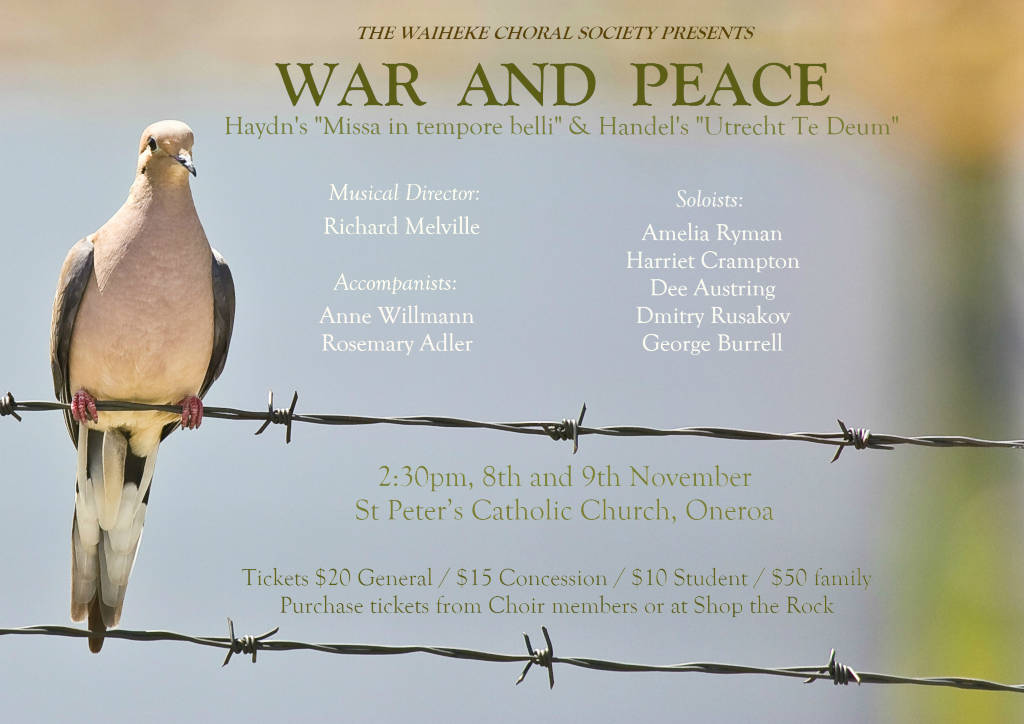 ---
Waiheke Choral Society
Musical Director:
Richard Melville
Pianist:
Anne Willmann
Soloists:
Amelia Ryman
Harriet Crampton
Dee Austring
Dmitry Rusakov
George Burrell
Choir Members:
Sopranos: Carol Handin, Hiromi Stewart, Maïlis Herren, Mary Batten, Maya Spence, Nassai Herren, Pam Manktelow, Rosemary Adler, Sandy Alley, Saskia Herren, Sue Triggs
Altos: Ann Jocelyn, Christine Beardon, Dee Austring, Eileen Boghurst, Eva-Maria Hess, Harriet Crampton, Irene Hodson, Jeanne Mellamphy, Kara Nelson, Kayla Mackenzie-Kopp, Kyrie Rose, Lyn Kemeys, Mig Wright
Tenors: Andy Spence, Jane Griffith, Marion Knight, Mark James, Philip Symonds
Basses: Alex Balfour, Ben Cobbett, Eric McMillan, Kim Dockley, Neil Johnson, Neil Harding, Nicolas Herren, Paul Carew, Peter Armstrong, Peter Forster, Trevor Hynds, Warwick Broadhead, Willi Willmann
---
About the Music:
Waiheke Island Choral Society presents War and Peace, combining Haydn's Mass #9 in C Major (Missa in Tempore Belli / Mass in Time of War / Paukenmesse) as the war portion, with Handel's Utrecht Te Deum (composed as a celebration of the Treaty of Utrecht) as the peace movement.
The Missa in Tempore Belli was composed in August 1796, at the time of Austria's general mobilisation into war. Four years into the European war that followed the French Revolution, Austrian troops were doing badly against the French in Italy and Germany, and Austria feared invasion. Reflecting the troubled mood of the time, Haydn's potent integration of references to battle in the Benedictus and Agnus Dei movements is inspired. The Mass was first performed on December 26, 1796, in the Piarist Church of Maria Treu in Vienna.
Utrecht Te Deum was first performed in 1714 (300 years ago!) to celebrate the Treaty of Utrecht, which established the Peace of Utrecht. The Treaty is actually a series of individual peace treaties, rather than a single document, signed after the War of the Spanish Succession, in the Dutch city of Utrecht in March and April of 1713. The treaties (parties included Spain, Great Britain, France, Portugal, Savoy and the Dutch Republic), helped end the war. The treaties marked the end of French ambitions of hegemony in Europe and preserved the European system based on the balance of power.
---