Waiheke Island Choral Society

P O Box 333, Oneroa, Waiheke Island 1840, New Zealand
Puccini and Brahms (March 2019)
---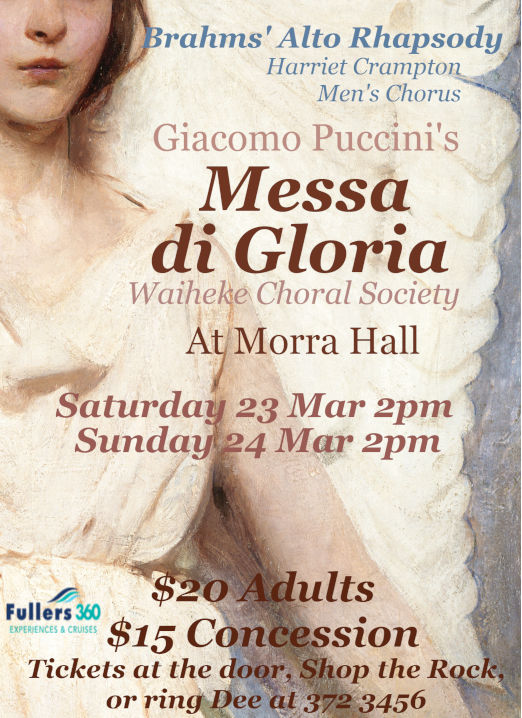 Our Music:
This weekend's concert could almost be called Bohemian Rhapsody, because it involves both the composer of La Bohème, and the Alto Rhapsody by Brahms.
Giacomo Puccini is best known as a composer of grand, sweeping romantic operas such as La Bohème and Madama Butterfly. Few know that he also composed a full Catholic mass, as his graduation exercise from the Pacini Institute in his native Lucca, Italy. It is this mass that the Waiheke Island Choral Society will perform today.
Puccini came from a long line of liturgical composers, and everyone expected him to follow the family tradition and become the choirmaster at the cathedral in Lucca. But young Giacomo had other ideas. He had fallen in love with dramatic opera and wanted to become the next Verdi. He dutifully composed his mass, then left religious music forever; his mass was performed in 1880 and then forgotten for seventy-two years.
In 1952, a choir in Chicago came across Puccini's mass and found it to be the most unusual piece of church music to come out of the nineteenth century. Soaring choral harmonies, dramatic tempo changes, and playful interaction between soloists and chorus, all point to Puccini's future in opera. You can almost hear Puccini singing farewell to family tradition, and hello to the exciting world of drama.
The mass is known colloquially as the Messa di Gloria, but that is not accurate because it has all of the movements of a Catholic sung mass, not just the Gloria. Nonetheless the Gloria takes up nearly half the piece, which probably accounts for the nickname. Puccini himself titled the piece simply Messa a quattro voci — Mass for Four Voices.
Also on the programme is the Alto Rhapsody by Johannes Brahms. Harriet Crampton is the alto soloist, and the tenors and basses of the choir will accompany her in this rendition of a Goethe poem about a misanthropic hermit. The Rhapsody evokes both the pain of the hermit's isolation and the sympathy of the poet for his plight. The piece has all of Brahms' emotional sweep and dense harmonies.
Freddie Mercury, who was also known for his emotional sweep and dense harmonies, would be pleased.
Waiheke Choral Society:
Musical Director: Richard Melville
Musicians: Carolyn Smart (Rehearsal Pianist)
William Green (Pianist)
Harriet Crampton (Alto)
Calvin Baker (Tenor)
Mark Covich (Baritone)
Committee:
Andy Spence, Gavin Smart, Mark James, Maya Spence, Nicolas Herren, Richard Melville, Saskia Herren, Susan Triggs
Choir Members:
Andy Spence, Ann Jocelyn, Christine Beardon, Dee Austring, Eileen Boghurst, Elizabeth Haylock, Erica Hailstone, Flynn Washington, Gavin Smart, Gillian Reeve, Hiromi Stewart, Jane Griffith, Janet Mayes, Jeanne Mellamphy, Joan Kirk, Kara Nelson, Mary Batten, Maya Spence, Nassai Herren, Nicolas Herren, Nika Dyblenko, Nora West, Norma Cross, Pam Manktelow, Philip Symonds, Richard Melville, Saskia Herren, Shona McIvor, Susan Triggs, Trevor Hynds
---